Profile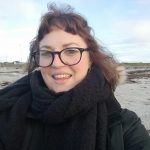 Jessica Franklin
My CV
Education:

Our Lady of Lourdes N.S, Ballinlough, Cork. Christ the King Secondary School, Cork. B.Sc. in Geology from University College Cork. Level 5 Diploma in Culture and Heritage Studies from Coláiste Stiofáin Naofa, Cork. Ph.D in Geology from National University of Ireland, Galway

Qualifications:

Bachelors Degree and Ph.D

Work History:

A delicatessan, in Cork. Gold exploration in Canada. The Olive Stall in the English Market Cork.

Current Job:

Post-Doctoral Researcher
About Me

My name is Jess. I am a 31 year old geologist, living in Galway city and working as a researcher in the National University of Galway Ireland.

Read more

My name is Jess, I am a proud Cork woman currently living in Galway with my partner Kev. I love music, movies and food, so in my spare time love to go to live gigs, to the cinema or out for dinner. My favourite way to keep fit is taking a long walk by the sea, but I also love yoga! My newest interest involves mixing science and art to help people learn more about the world around us, for example reading poetry about the landscape while getting outdoors and seeing some amazing geology.

Read more

I am a geologist, which means I love to study rocks!! Rocks make up the ground beneath our feet. Rocks also help us build our roads, our houses and our schools! They even contain the precious metals found in all our devices such as computers and phones! My favourite rock is sandstone. Sandstone is made up of millions and millions of grains of sand. These grains of sand once belonged to ancient mountains which were broken down by rain and wind over time. The broken pieces of these mountains traveled long distances in rivers or in the air and were broken down into smaller and smaller pieces along the way. These small grains eventually came to a stop, maybe on a river bed, on a beach or in a desert! Over time the millions of grains were buried under more and more grains. As they were buried they were squeezed together and made sandstone.

My work is kind of like a detective. A rock detective! Each sand grain has a special chemical make up, almost like DNA for sand! By analysing this chemistry I can trace the individual sandstone grains back to the mountains they originally came from. Once I know where they came from I can tell which way they travelled and if it was by wind or by water. By doing this I can imagine very old environments, that don't exist any more.

This is me using a very powerful microscope to analyse the chemistry of the sandstone.

This picture is a sandstone under that big microscope. The various colours tell me about the  chemistry of each grain. The grains are also called minerals. Minerals make up every single rock on the planet but some minerals are only found in some rocks. So when I know the minerals and the chemistry of the minerals I can tell which rocks they came from!

My Typical Day

My typical day involves looking down lots of different types of microscopes at pieces of sandstone. Some days I even use a laser to blast the sandstone apart into it's smallest pieces so I can analyse the chemistry!

Read more

Most days I work in an office at my computer looking at all the chemical data I have collected from sandstones and trying to figure out what it all means!

Other days I will be in the lab preparing my sandstones for analysis. First I have to crush up the rock so all the little sand grains come apart again. Then I have to separate out all the grains with a special liquid so I can pick the grains whose chemistry I want to analyse.

This is a picture of the little sand grains under a microscope, after they have been separated out and picked with a tweezers. Then comes the fun part!! I put the grains into a very big machine which uses a laser to blast apart the little grains into even smaller parts called elements! The machine will then count how much of each element is in each sand grain. This special number is unique to each sand grain. This chemistry can be matched with other rocks that have a similar chemistry to find out where it came from!

Some days I will go on a field trip to see different rocks out in nature. This is really my favourite thing to do! Every rock is formed in a different way and has a special story to tell.

What I'd do with the prize money

I would love to use the prize money to create an art exhibition all about rocks! I love to mix science and art to help people learn about the world around them!
My Interview

How would you describe yourself in 3 words?

Passionate, caring and hard-working

What did you want to be after you left school?

I had no idea!

Were you ever in trouble at school?

I would get in trouble for laughing in class

Who is your favourite singer or band?

David Bowie

What's your favourite food?

A good curry

What is the most fun thing you've done?

I flew in a helicopter once

If you had 3 wishes for yourself what would they be? - be honest!

To learn as much as possible about everything! To be able to teach everyone about geology! To be able to sing.

Tell us a joke.

What did other rocks call the sandstone who thought it was a volcanic rock? A siliciclastic!
My profile link:
https://energyn19.imascientist.ie/profile/jessicafranklin/
---
---